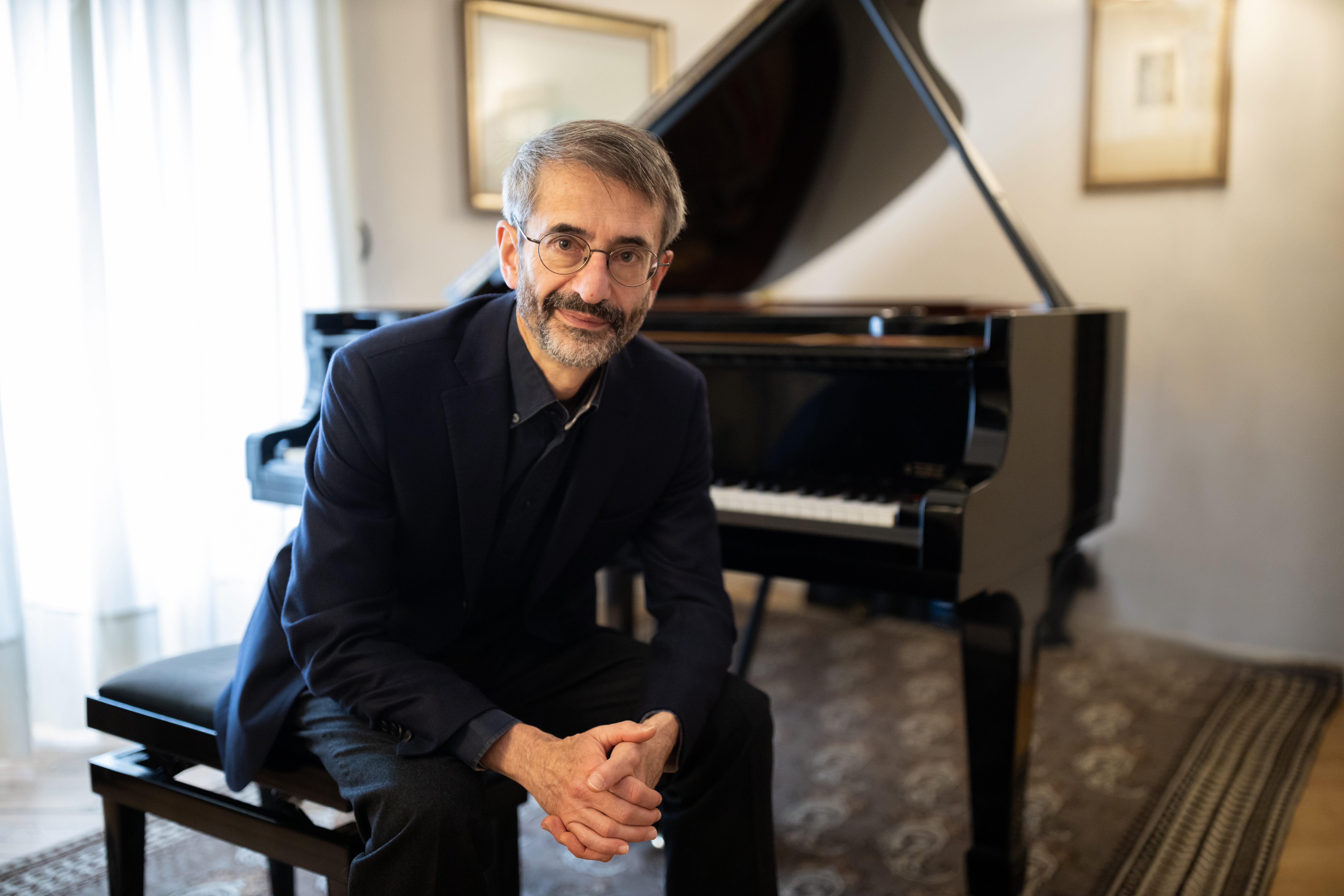 "He'll get over this one, too".
This is how my relatives commented when I announced that I wanted to be a musician, instead of a sheriff or a magician as I had declared in my early childhood. Now I was nine; I was familiar with toy pianos, junior zithers, mouth-organs, and I had a mature keenness in listening, developed with Modugno, The Beatles and Dave Brubeck first, and Beethoven, at last. I wanted to play the piano, like Schroeder, the Peanuts character, who was able to conjure the notes of the Hammerklavier Sonata, or even better, I wanted a real piano like Kempff's in his Moonlight forty-five record.
After waiting aimlessly that my desire would be reduced to a childhood craze, my parents bought me a period upright piano, a fine XIX-century Dutch inlaid piece of furniture that would look great in our house, in case I gave up. "Pianists must practice eight hours a day! What a life of hell!", said my elder sister. "You could be a composer, so you'll only have to write. You can make the others play, and you don't have to learn your music!".
I had never given a thought to the fact that composers and interpreters were different people. Actually, I wanted to make my own music, but since I had to learn to play first, I started taking piano lessons, realizing only later that all the music I liked had already been written by Beethoven, Chopin, Tchaikovsky, who had "stolen" my ideas. I might as well be a pianist, a musician who plays others' works, that after all belong to him, too. And this has always been a mania for me, not only as a child, but in my entire life.
My mother had a brilliant idea; a IUC (Istituzione Universitaria dei concerti, University Concert Institution) season ticket, which took place on Saturday afternoon, so we'd never stay out until late. We went together, and within a year we listened to Kempff, Rubinstein, Richter, Magaloff, Menuhin, Oistrakh, the Végh Quartet, harpsichordist George Malcolm, and once, exceptionally, the Leningrad Philharmonic Orchestra conducted by Yevgeny Mravinsky. That year left a mark on me.
My piano teacher's name was Lydia, a fiftyish Tuscan lady, demanding and nice, who had studied with Casella. I don't know how she made me play straightaway, without solmisation, drops or hammers, or anything of the sort. It was called "Global Method". It worked, because within a few months I was smoothly playing my first Beethoven. She taught me four more years, then she entrusted me to an important teacher, Rodolfo Caporali, who guided me with his invaluable teachings to graduation and, later, to my first competitions and my first concerts. I will always be grateful to this teachers, real artists.
In the meanwhile, I had not given up improving composition, at the beginning with Attilio Poleggi, and then with Giuseppe Savagnone, who gave me counterpoint exercises and in the meantime made me study dodecaphony on Krenek's coursebook. An utter nonconformist. Our lessons never ended, they were meetings in the studio of an artist, who after revising my homework showed me what he was working at. All this caught me insomuch that for a few hours I forgot being a pianist, a man who plays others' works. I wanted to compose my own pieces, and I was able to do it. But when I came back to my instrument with Brahms' Variations on a Theme of Paganini, I felt that this company was irresistible and much more interesting than my own. I've never found a solution to this dilemma, not even when, much later, I resumed my study with Aldo Clementi, whom I invited to my second concert at S. Cecilia with the Academy Orchestra, in Prokofiev's Piano Concerto No. 5. Then I realized I had incurably become a pianist, and that the stage, with all the anxieties that it fostered more or less secretly, was my life.
On my way, I had the privilege of meeting and seeing extraordinary people.
Franco Ferrara, maybe the greatest conductor that has ever existed, as someone said. I visited him at his house in Piazza Cavour between concerts, and I asked him to listen to me. His advice was simple, forthright, and deep. For example, when you perform a Bach's fugue you mustn't exalt the theme voice above the others, but play all of them with different timbres. And one night, when I was preparing Schumann's Piano Concerto for my graduation, he suggested me to read it together on two pianos. After playing with so many conductors, great and famous as well, that experience remains the most unforgettable one of my life.
Francesco Siciliani, without whom, as Lorin Maazel put it: "European music in the last fifty years would have been unthinkable". A genius behind the scenes. I used to visit him at his house by the Tiber embankment late in the evening, and I played for him. Sometimes he came over to my place, and I offered him his favourite appetizer: peanuts and tomato juice. Each of his comments, loud or unspoken, opened up a world to me. He was the man who had discovered Callas, Maazel, Prêtre, and many other artist, not only engaging them when he was the artistic director at La Scala or S. Cecilia, but intervening in their growth, not remotely inhibited by their fame. Once I played Brahms' Piano Concerto No. 1 and he said: "Never forget that this work always has a slimy depth". Since then I've never forgotten to pay attention to low-pitched notes, so that they remain present and incisive, also in more delicate works like Brahms' latest Intermezzi. And when I got my first post at the academy: "Bear in mind that a real teacher never lectures, but sits next to his students and learns with them".
One night he introduced me to Alexis Weissenberg, who had just performed Rachmaninoff's Piano Concerto No. 3 with Prêtre at S. Cecilia. A few months later I was in Paris, where he devoted three entire afternoons to listen to my whole repertoire. I was 33 and very insecure, and he told me: "You were born to be a soloist. And you should also play chamber music, obviously".
It was a shock, my professional life had changed for good.
We'd often seen each other since then, between engagements. He was a teacher and a friend, he listened to me whenever I had a new piece to perform in a concert, basically all my repertoire. We met at his house, in Paris or Lucerne or later Lugano, or at La Scala or any hall where he was rehearsing, and he devoted me all the time he could subtract to his pauses. He was a great concert artist and his advice was instantly enlightening, as if he had the magical power to remove, instead of solving, any problem. We got on first-name terms after ten years, and on that occasion he gave me his Sonate en état de jazz score, and since then I've dedicated myself to his light, deep and brilliant music.
In the meantime, I gave concerts, almost everywhere in Italy and Europe, recitals or with orchestra, sometimes at a fast pace, even fourteen in nine days, other times with long idle periods that made me impatient. My favourite performances were those with conductors, in most cases ever changing, who made the same piece always new. The first one I played with was Gavazzeni, who loved working with young musicians and who engaged me when I was 24, allowing me to open the S. Carlo season. His esteem and friendship made me feel privileged, and much envied, as I discovered much later. I learnt a lot from him. We were playing Mendelssohn's Piano Concerto No. 1 and he cried to a too loud orchestra: "Air beneath the notes!". Yes, air beneath the notes, and this doesn't just go for Mendelssohn. I kept that in mind when I tackled Gershwin's Rhapsody in Blue.
I played it for the first time in the bullring of an Andalusian city. It was a rather surreal and unsettling experience, because the backstage was the green room where bullfighters got ready, with amulets, ex voto and anything useful to men facing a dangerous, maybe deadly, situation.
This experience reduced my nervousness before a concert. At worst, my life is never at stake.
I've been many other times to Spain, in about forty different cities, living now funny now unforeseen situations, in so far as I could draw a picaresque novel. It's not worth it, but I can't forget the night of Rachmaninoff's Piano Concerto No. 2, and the jug of sangria that my wife and I drank because of the summer heat, making our presence at the second part of the concert awkward for the conductor. We even had troubles to walk to our hotel. Or when my agent phoned me asking me to rush to Madrid to replace a totally unfit pianist at a concert in the presence of King Juan Carlos and Queen Sofia, who had listened to me a few months earlier. I went there, even though I hadn't touched my piano for almost a week, and my performance was successful, maybe to compensate for another time in Galicia, when I was ready to play Chopin's Piano Concerto No. 2 and the conductor had the score of No. 1, for a misunderstanding in the contract. He asked me if I could change the programme, as if it was a garment, I said no, and the concert was cancelled. The next week, when I was back to Italy, they asked me to make up for the lost concert three days later in Zaragoza, with the same conductor. I accepted, and that was one of those wonderful nights when everything works, one feels in shape, there's an excellent acoustics in the hall, the piano is amazing, and success is full. I remember all of them, because I'm persuaded that any artist could count them on his fingers.
Anyway, travelling for a concert or a tour is the most amusing thing that I've ever lived. Any circumstance, even the most stressful one, left a memory and a teaching. Visiting magnificent capital cities without the constraints of being a tourist, free to spend an afternoon in a museum or oversleeping, without being forced to make use of the money you paid for the holiday, is one of the pleasures of life. You can bump into unpleasant places and people, but a new contact is always enriching, with a conductor or a tuner, or the audience, that sometimes behaves like a lazy kid or a passionate lover, and you cannot predict it.
And then there's study, everyday's secret and patient work, my sister's dreaded eight hours, that actually dwindle but remain a constant engagement without pauses or holidays. And the growing need to play and play again, more than breathing, because you can hold your breath, but you can't prevent your heart from beating.
Teaching is, of course, important because we players have got much to hand down and to tell, and we can be links of a precious chain. As Alexis Weissenberg said in "I Like Music": you don't live for music, you live in music. And I keep telling my students, as they feel inadequate when they tackle the great repertoire after listening to great interpreter's renditions, there are big and small stars, but all of them shine the same joyful light.
The main thing is the right light.
Alessandro